Pre-Trip Planning Goals:
Summer trips are planned a year ahead. If you are graduating next summer, call us Right Now!
Step 1: Travelers should find a group of their best friends.
Step 2: Think of 6 European cities you want to visit. Example calendar to the right.
Step 3: Think of dates        (20-23 days)
Step 4: Contact LOL!           We will do the rest. 
APPROXIMATE COSTS 
Summer Trip: June - July
6 cities, 20+ Days
Approximately $3000
Airfare is Approximately $1000 - $1500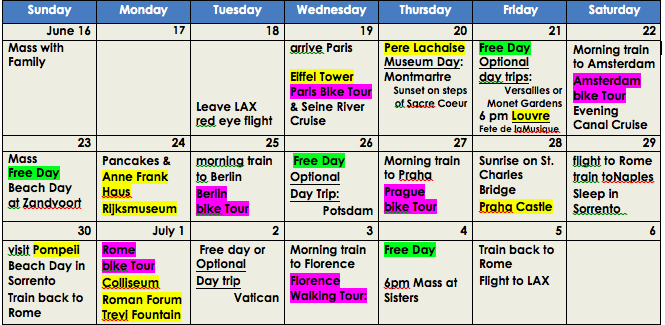 Pre-trip Calendar Deadlines
September thru January: pre-planning group meeting. plan the cities, days & sites. pay non-refundable deposit for LOL to begin planning the trip
February: first group/parent meeting, pay for airfare
March: daily itinerary created
April: full payment for trip (payment plans are also available)
May: second group/parent meeting
June/July: Experience YOUR Trip of a Lifetime!